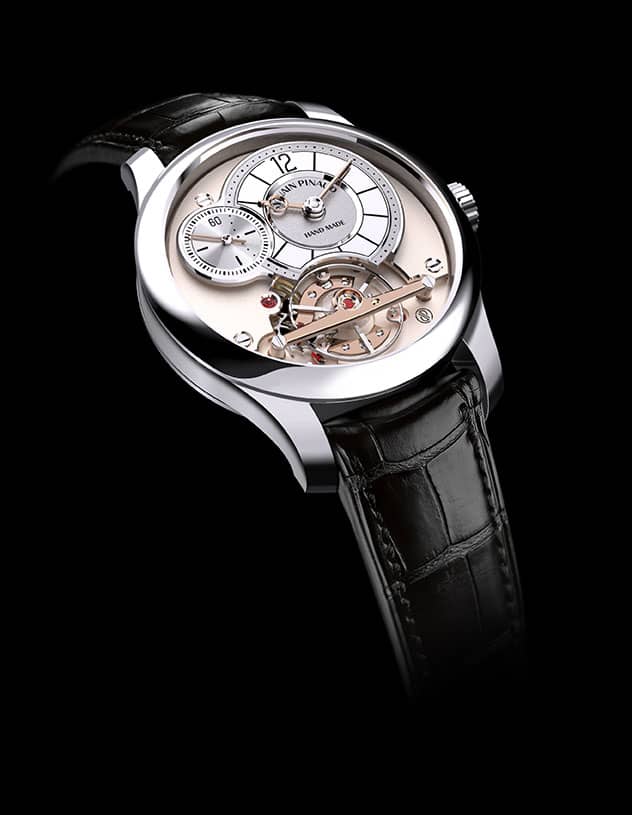 I create this timepieces as an homage to the the most beautiful achievements from the science of Horology, my interpretation of the the heritage I received in my carreer.
An harmonius mix of technical excellence and timeless elegance.
Harmonized with the unique layout of the silver dial, the face of the watch presents timeless proportions.
The silvered dial, of a rare complexity, plays on contrasts and extraordinary finishing to offer perfect readability. Underlined by its polished steel cartouche, it shares the spotlight with the heart of the movement.
Its large free sprung balance wheel, coupled with its Phillips balance-spring, allows for precision adjustment.
Only traditional materials are used in this watch in their simplest treatment. Allowing to guarantee a perenniality and a great longevity. This timekeeper is thought to guarantee an irreproachable precision and that for centuries.
The movement, is a mechanical winding, oscillating at 21600 v.p.h and guaranteeing 55 hours of operation.
Its robust mechanism is housed in a 40 mm case.
The ergonomic shape provides great comfort on all wrists,
Unless otherwise requested, we prioritize steel for the housing, lighter and stronger.
I wanted to create a elegant watch that could be worn every day.
55H power reserve

hand wound mechanical movement

frequency : 21'600 v.p.h.

22 Jewels

Size : 33,8mm X 6,9mm

In house escapement and balance wheel with variable inertia

Balance diameter 13.2 mm with Phillips spiral

Stainless steel 316

Diameter 40mm X 11 mm thick ( glass include )

Water resistance 3 ATM (30 meters)
To make each watch unique combinations of materials and finishes can be personalized on request.