The Monopoussoir Chronograph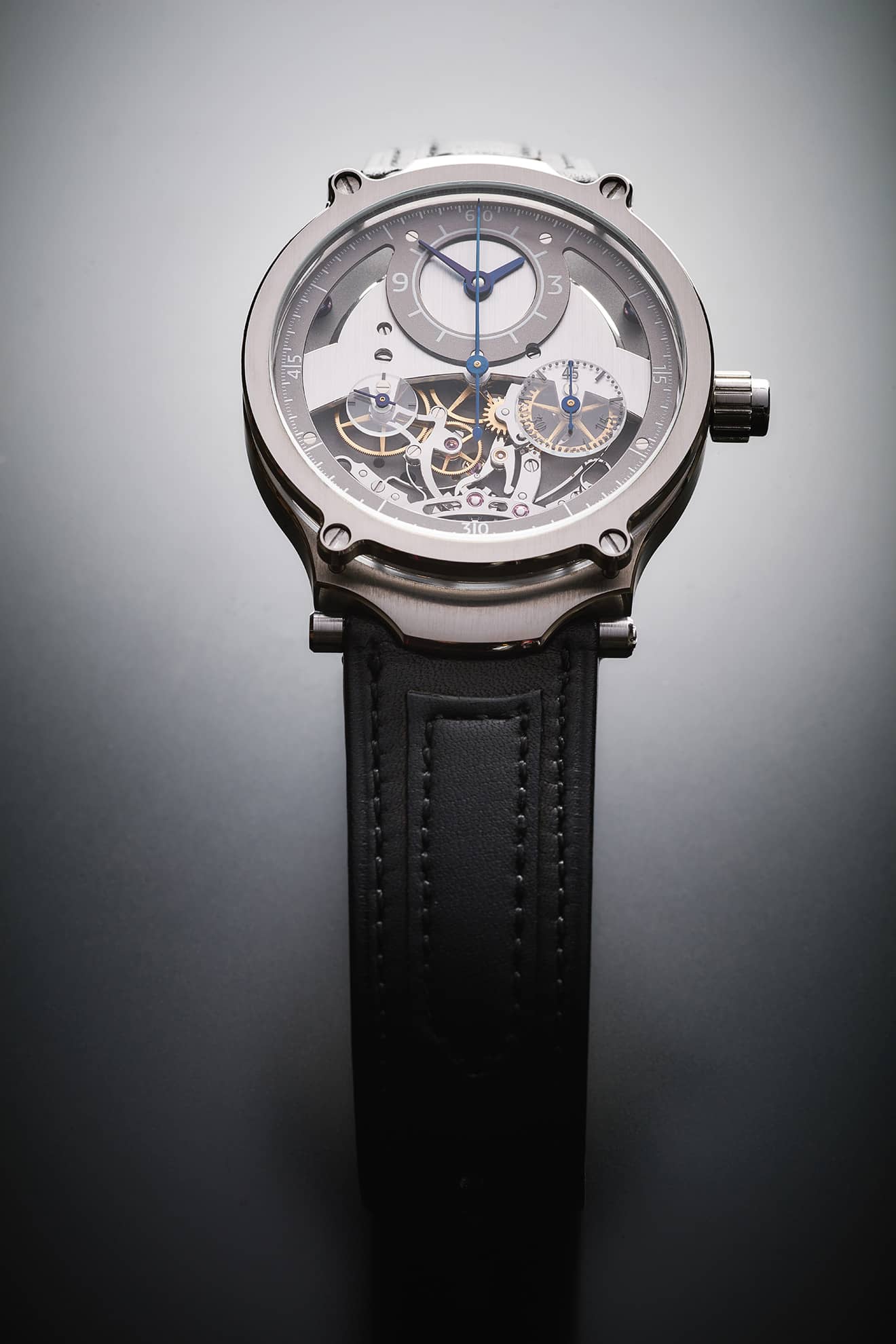 The result of an intense process of creation, craftsmanship and a lot of dreams.
The chronograph monopoussoir is a manual winding, that indicate hours, minutes and seconds.
Its chronograph function give you the record of seconds and minutes on 45 minutes counter.
Its elegant and robust mechanism is housed in a 42 mm case in titanium, serving as a showcase for the mechanical parts.
The peripheral glass allows the movement to be observed from a new angle.
Every detail is brought to light, every curve highlighted and at every moment other subtleties are discovered.
The choice of a horizontal clutch and column wheel is obvious for the watchmaker because it is beautiful, simple and efficient.
Delicate functions, or others with strong constraints, have ruby bearings to guarantee optimal operation.
All finishing work is done by hand to achieve the highest possible level.
The wheels are circled and bevelled, the steel components are black polished and bevelled.
The silver dials are grained and bevelled by hand.
A thin perimeter circumscribing each counter dial reinforces their timeless elegance.
An exclusive chronograph, made with the highest bienfacture The movement, whose layout is inspired by marine chronometers, reveals through an opening in the back, its large chronometer balance, which beats calmly at 2.5 Hz.
45H power reserve with manual winding

2.5 Hz variable inertia balance

Single pusher column-wheel chronograph with horizontal clutch

Counter 45 Minutes semi instantaneous

Case and buckle in grade 5 titanium (Also available in 18K gold)

Diameter: 42mm Height: 12.5mm including glass

Water resistance 3 ATM (30 meters)

Bespoke black Calfskin strap