The Monopoussoir Chronograph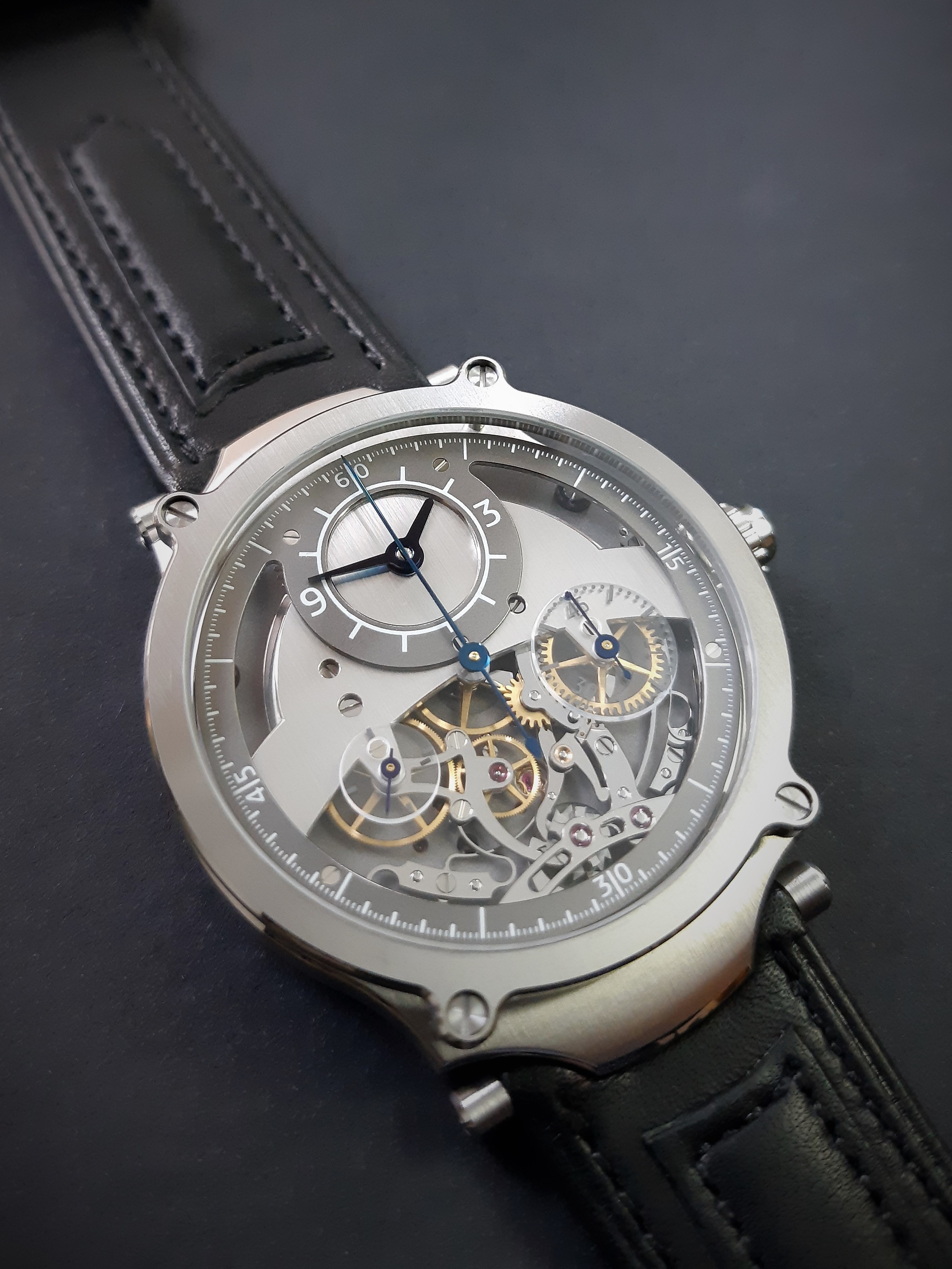 The result of an intense process of creation, craftsmanship and a lot of dreams.
This fully integrated chronograph, resumes the traditional operation of the most beautiful achievements from the beginning of last century while being resolutely contemporary. Every detail, every function is designed to harmonize and ensure optimal functioning.
• The dressing is also unique, as a case for the mechanics. The peripheral glass allows to observe the movement from a new angle and to bring it to light.
• The chronograph is arranged in a harmonious opening, allowing after each pressure on the pusher, to observe the levers that operate, the wheels that mesh and the time that is written precisely.
• To sublimate this magic, all the steel components are angled and mirror polished. A show that only a handmade watch can offer.
• The movement, a layout inspired by marine chronometers. Unveiled by an opening in the bottom of its wide chronometric balance which calmly beats at 2.5 Hz.
In this prototype, a few pieces have been produced by CNC, the vast majority by hand and with conventional machines. Patiently cut, machined or turned; to finally be angled and decorated by hand … and I wish it stays that way.
• TECHNICAL SPECIFICATIONS
45H power reserve with manual winding

2.5 Hz variable inertia balance

Single pusher column-wheel chronograph with horizontal clutch

Counter 45 Minutes semi instantaneous

Case and buckle in grade 5 titanium (Also available in 18K gold)

Diameter: 42mm Height: 12.5mm including glass

Water resistance 3 ATM (30 meters)

Bespoke black Calfskin strap
• ORDER & PRICE
I propose today to manufacture to order the chronograph. Because of the craftsmanship and the great degree of finishing, a very limited quantity of numbered watches will be produced. We can also work together to personalize your piece to make it totally unique.
The piece presented here is a prototype, some tiny adjustments and small modifications are planned on the models produced.
The price of the monopousssoir chronograph:
Case and buckle in Titanium: 78 000 Chf excluding VAT

Case and buckle in 18K Gold: 88 000 Chf excluding VAT
Orders are made directly from the workshop. For further information, do not hesitate to contact me.